Advenis real estate solutions
Une combinaison d'expertises pour une maitrise globale des enjeux de l'immobilier professionnel
Gestion immobilière
FRANCE ALLEMAGNE
Asset management
Conception d'une stratégie immobilière visant à maximiser la valeur des actifs sous gestion
Property & Facility management
Gestion de proximité d'un actif immobilier d'un point de vue administratif, financier, technique ou commercial pour le compte d'un propriétaire ou d'un occupant
Conseil et transaction
Transactions
mise en location & vente de locaux professionnels
Corporate Solutions
multi-sites, services dédiés
Conseils en investissement et arbitrage
ADVENIS ASSET, PROPERTY AND FACILITY MANAGEMENT
RENTAL AND TECHNICAL MANAGEMENT OF REAL ESTATE ASSETS
Advenis Asset Management, Advenis Property Management & Advenis Facility Management have consistently rethought their activity to become one of the best market operators in line with the latest development in demand for real estate asset management.
Advenis assists its clients in optimizing their commercial and residential real estate assets, including on-site management.
To optimize the value of every real estate asset entrusted to us (offices, stores, business premises, housing), we provide our clients with rigorous, proactive local and environmentally aware rental, technical, and accounting real estate management
We are committed to being as close as possible to the properties we manage via a nationwide presence. The latter allows us to meet specific local needs and, at the same time, to manage large portfolios all over France through unified management.
We choose to support our clients on the long term. A real estate asset has a life cycle during its ownership period, from its acquisition to its resale.
Advenis is part of a management approach that favors the medium and long term by harmoniously combining the return and the value of the property in a regulatory and legislative environment in constant evolution.
Our goal is to increase the value of our clientele's real estate assets by relying on our well-known expertise and our national network.
Visit the website
Contact us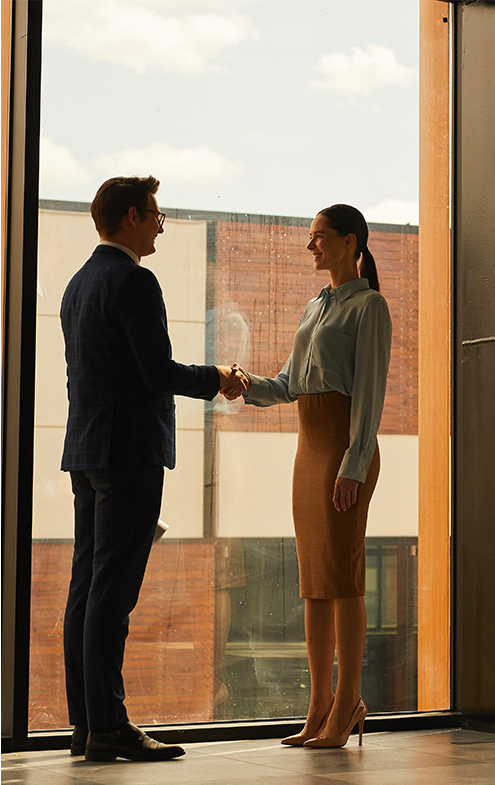 Our clients' expectations
We take action to optimize the return and value of the assets of institutional and private investors, real estate asset owners.
We also take care of all logistics and real estate issues in the workplace of occupants, tenants, or owners of real estate properties. Thus, our clients can devote themselves to their core business.
Finally, we rigorously and professionally animate the community of co-owners, members of an ASL (Association Syndicale Libre – Association of owners for the management of common areas), AFUL (Association Foncière Urbaine Libre – Independent Property Management Association), or an RIE (Restaurant Inter-Entreprise – Inter-Company Restaurant).
KEY FIGURES*
*as of 12/31/2020
2 500
sites under management
30
regional establishments
Organization of more than
450
ASL, AFUL, RIE, co-ownership meetings
A COMPLETE RANGE OF SERVICES FOR REAL ESTATE
Custom-made rental management
To ensure that we meet the expectations of our client owners of rental-intended properties, we provide a sole representative who leads the team dedicated to managing their assets in the administrative, legal, technical, accounting, and financial fields.
Experienced rental and technical managers ensure the reactivity, proximity to properties and occupants, control of charges, permanent monitoring of the latest legislative and environmental dispositions. We deploy an internal legal direction, a 24/7 call center, and the latest tools available for immediate information sharing.
Our added value is optimizing the rental return and the asset value of the entrusted properties. We are more than a service provider; we are a true partner of our mandators.
A specific service dedicated to the occupants of premises
To allow users of premises to devote themselves to their core business, whether they are tenants or owners, we have designed rare and highly qualified services.
The property includes the management of technical and maintenance service providers, the monitoring of renovations under delegated contracting authority, and the development of common areas.
The operation of the property revolves around optimizing charges, blending multi-site operations, and managing the lessor and/or tenant relationship.
Our added value: taking care of daily concerns to optimize employee satisfaction and productivity.
High-quality technical management
40 experienced technical managers, mobile or posted, oversee the maintenance, upkeep, or renovation of the buildings entrusted to us throughout the territory.
Our information system, Building Life Management, ensures immediate and transparent information: technical round on tablet, shared agenda of regulatory deadlines, customizable reporting.
The technical, method and quality department supports our mandators in the application of the provisions of the Tertiary Decree, as well as in the process of certification and technical and environmental labeling: HQE, BREEAM IN USE, BIU, ISO 50001, development of an Energy Management System, BBC Renovation, etc.
Our added value is being as close as possible to the assets under management, per a continuity plan and a quality plan designed for performance improvement.
A team dedicated to the implementation of solutions to meet social and environmental challenges
Our teams materialize their high standards in rigorously monitoring the charters to which they are committed to: company charter, sustainable development charter, GDPR, AML/CFT, etc.
They support our Key Account Clients in their Socially Responsible approach: ensuring asset compliance, contributing to environmental studies, establishing environmental health logs, monitoring & improving environmental performance, ensuring that renovations are completed under the requirements of a "green worksite" charter, incorporating green targets into service provider contracts, etc.
The management of ASL, AFUL of co-ownerships, RIE
We have combined our rental and technical management experience, serving both property owners, and lessors & occupants, to expand our skills in intricate real estate community management.
Our expertise covers a broad spectrum of services to provide legal and technical security of the property, and optimization of the management of maintenance service providers, the monitoring of maintenance and improvement work under delegated contracting, control of charges, management of communal areas, preparation, and holding of general meetings.
Our added value is leading and federating the many interests of every member of a real estate community to preserve the common good.
LET'S MEET
Do you want to delegate, partially or completely, the rental and technical management of your properties or the maintenance of your operating buildings?
Contact us
Visit the website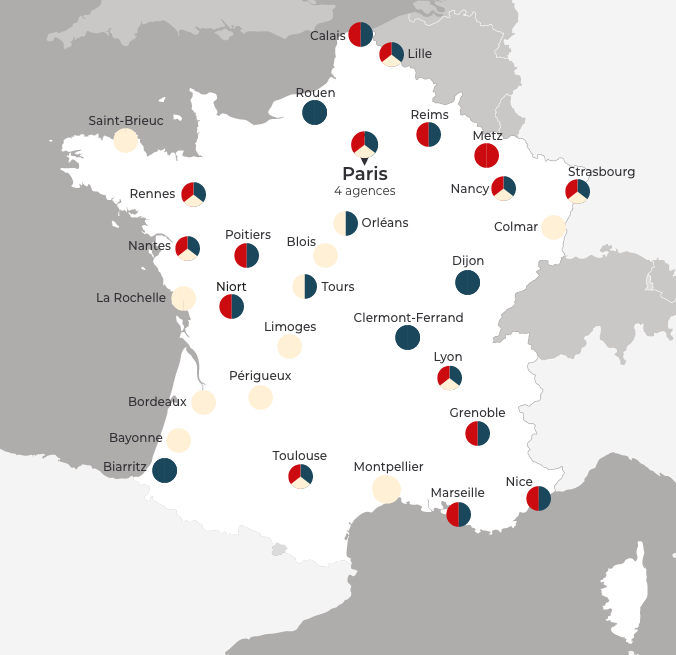 ESTABLISHMENT OF ADVENIS REAL ESTATE SOLUTIONS' OFFICES
Whether it is consulting, marketing, designing community spaces, investment, or property management, Advenis Real Estate Solutions, the real estate division of Advenis, can mobilize all its teams through its 30 agencies in France.
Our national network and the range of our skills contribute to our perfect real estate services throughout the country.
Conseil & Transaction
Property Management
Facility Management
Discover all PM-FM locations